Apparently, you can now vacation at not one, but two, of former Colombian drug king pin Pablo Escobar's old estates.
Cartel tourism anyone?
1) Vacation at Pablo Escobar's Retreat: Casa Magna in Tulum, Mexico
April 15, 2008By: Mary Winston Nicklin
---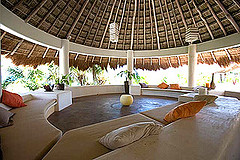 The Colombian cocaine kingpin sure did pick a nice spot. Tulum and the Riviera Maya have become Mexico's hottest destination in the last decade, and it's little wonder why. The picture-perfect setting of white sandy beaches and turquoise waters, coupled with the easy proximity to the U.S. East Coast, continues to lure vacationers seeking a little piece of paradise. On the secluded coast near Tulum, south of Cancun, a new eco-chic resort called
Casa Magna
has been making waves. Legend has it that Escobar himself camped out here (and there are the
bullet-proof walls, a secret tunnel, and "look-out turrets"
to prove it). After the drug lord's death, the place was abandoned and deteriorated into a mess of concrete... At least until Amansala took on a massive renovation project and created this eco-friendly hideaway touting "rustic luxury." On this pristine stretch of beach, you'll find spacious rooms, yoga classes, fitness training, and a restaurant serving the freshest fish and tasty mango margaritas.
And then in Medellin, Columbia itself, there is a theme park on the grounds of hid hideaway.
2) The Theme Park on Drug Lord Pablo Escobar's Estate
The main gates of the Hacienda Nápoles theme park, featuring Pablo Escobar's smuggling plane
In one corner of the 3,700-acre park, a bright pink hippo statue poses on a plinth; in another, dinosaurs are frozen in time. Elsewhere, a giant octopus emerges from a swimming pool with waterslides wrapped up in its tentacles.
As far as theme parks go, there isn't really anything too surprising or out of the ordinary going on here. Yet this is no ordinary tourist attraction. The Hacienda Nápoles theme park is situated on grounds that once belonged to Colombia's (and perhaps the world's) most famous drug lord.